Archive for the 'welfare state' Category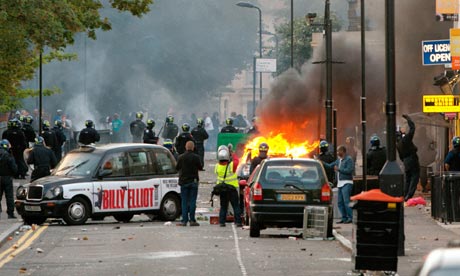 Menanggapi kerusuhan di Inggris -yang juga melanda kota dimana kami tinggal di Manchester- saya menulis catatan di bawah ini sebagai reaksi atas berbagai analisis yang gencar muncul di media. Catatan ini saya kirim ke harian Kompas 11 Agustus dan, setelah diedit sana-sini, dimuat tanggal 22 Agustus 2011 (silakan baca di sini). Sebelumnya, juga saya 'kicau'kan di Twitter, yang diarsip rekan saya mas Suryaden di blognya (di sini).
Selamat menikmati catatan (yang lebih lengkap) ini – semoga berguna.
siang sampai sore hari ini saya mendapat telepon dari tanah air beberapa kali. kalau tak salah hitung, ada 8 atau 9 kali, dari orang yang berbeda-beda dan dua diantaranya dari media massa. ada kemiripan semua isi telepon itu. awalnya, semua bertanya, "apa benar tak ada dampak krisis ekonomi saat ini di inggris?". saya jawab, "tidak benar". lalu saya tanya balik, "kenapa?" lalu dijawab, "kompas yang bilang itu". saya menukas, "ngawur itu. sudah pasti kompas salah." lalu ditanggapi lagi, "lha ini dari wawancara mereka yang bekerja di ingris kok". lalu saya menukas lagi, "lha yang diwawancarai yang nggak ngerti situasinya." lalu yang bikin saya shock, "lha bukannya kamu juga diwawancarai?"
Categories:

0 bahasa indonesia, cultural, development, economy, globalisation, market economy, policy, politics, reflection, social, welfare state
Top Posts
Error: Twitter did not respond. Please wait a few minutes and refresh this page.